Early proposals to unite the colonies
Proposals that the Australian colonies should unite can be traced back to the early days of settlement. A central governing body with powers to legislate on matters affecting all the Australian colonies was always seen by colonial leaders as the means of unification.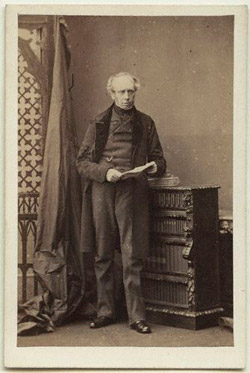 Camille Silvy, 1861, National Portrait Gallery, London
In the late 1840s Earl Grey, the British Secretary of State for the Colonies, suggested that the Australian colonies unite under a 'central authority'.
As part of his wider aspirations for an Australian republic, John Dunmore Lang advocated in the 1850s a 'great federation of all the colonies of Australia … each to have a separate local government and sending members to Congress to form a great central government.'
William Charles Wentworth lobbied the British government on the subject of a 'Federal Assembly with power to legislate on all internal subjects' for the colonies.
Edward Deas Thomson, a member of the New South Wales Legislative Council and a former colonial secretary, sponsored a report by a select committee of the Council recommending 'a Federal Assembly with the power to discuss and determine on all questions of an intercolonial character arising out of the Australian colonies generally'.
As a member of the Victorian Legislative Assembly, Charles Gavan Duffy chaired several select parliamentary committees and a royal commission, which urged consideration of a federal union of the Australasian colonies for legislative purposes.